Frequently Asked Questions (FAQs) for CoolSculpting®  in Scottsdale
At The Skin Clinic North Scottsdale, we understand that CoolSculpting® is an innovative and popular non-surgical fat reduction procedure. To help you make an informed decision, we've compiled a list of frequently asked questions about CoolSculpting in Scottsdale.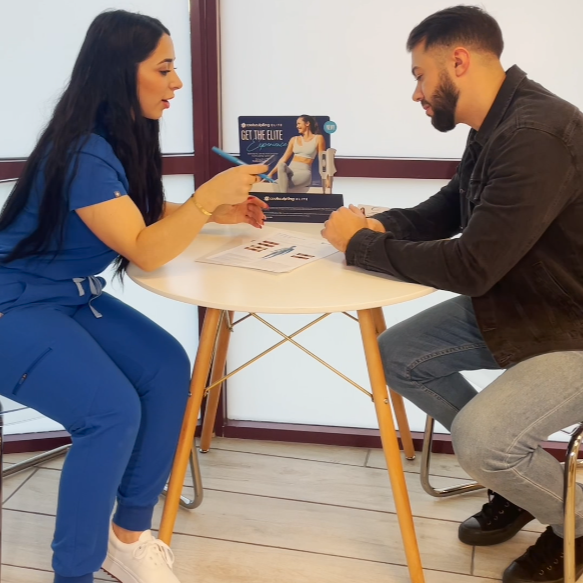 What is CoolSculpting®?
CoolSculpting® is a non-invasive fat reduction procedure that uses controlled cooling to target and eliminate stubborn fat cells. This innovative treatment is FDA-cleared and can help sculpt your body without surgery.
How does CoolSculpting® work?
CoolSculpting® works by freezing fat cells, which are then naturally eliminated by your body over time. The procedure is safe, effective, and has little to no downtime.
Is CoolSculpting® suitable for me?
CoolSculpting® is an excellent option for individuals looking to reduce localized fat pockets that are resistant to diet and exercise. During a consultation, our experts will assess if CoolSculpting® is the right choice for you.
What areas of the body can CoolSculpting® treat?
CoolSculpting® can target various areas, including the abdomen, flanks, thighs, chin, upper arms, and more. It's essential to consult with our specialists to determine your specific treatment areas.
How long does a CoolSculpting® session take?
Typically, a CoolSculpting® Elite session can last between 35 minutes to an hour, depending on the treated area. You can even schedule multiple sessions in one visit for different areas.
Is CoolSculpting® painful?
Most patients experience minimal discomfort during the procedure. You may feel cold and a slight tugging sensation as the applicator works, but this subsides as the area becomes numb.
When will I see results from CoolSculpting®?
Results vary from person to person, but you can typically expect to see noticeable changes within a few weeks, with full results becoming apparent after a few months.
Are there any side effects?
CoolSculpting® is considered safe, and side effects are usually mild, such as temporary redness, swelling, or numbness in the treated area.
How much does CoolSculpting® cost in Scottsdale?
Pricing varies based on the number of areas treated and your specific goals. We offer special pricing packages for multiple treatments and our personalized consultations will provide accurate costs. Ask about our current CoolSculpting® Specials.
Is CoolSculpting® permanent?
CoolSculpting® results are long-lasting as the treated fat cells are eliminated. Maintaining a healthy lifestyle will help you enjoy the benefits for years to come.
How can I schedule a CoolSculpting® consultation in Scottsdale?
To schedule a FREE consultation with our experienced CoolSculpting® team at The Skin Clinic North Scottsdale, please complete the form below.
Contact Us
For more information about CoolSculpting in Scottsdale, contact The Skin Clinic North Scottsdale today! Our CoolSculpting® experts are here to answer your questions and help you achieve your body sculpting goals.
Schedule your FREE consultation today!
Fill out the form or
"*" indicates required fields